Mission
Camp brings the fun online and in person
Our summer camp is providing a safe and fun experience virtually and in person.
Every weekday just before lunch time, you can hear giggles coming from down the hall and see children excitedly making their way to their family's room in our House.
The patients and siblings staying at RMHC Toronto have just finished a fun-filled morning of socially distanced activities at RMHC Toronto Camp, and they are on their way to continue the fun with virtual programming in the afternoon.
For the first time ever, RMHC Toronto Camp is offering in-person programming in the morning, and virtual programming in the afternoon.
Our top priority continues to be keeping everyone safe while having fun, ensuring that Camp follows COVID-19 safety protocols set in place by Toronto Public Health. At the beginning of every week, campers receive an individual activity package filled with toys and materials. This ensures everyone maintains social distancing while not sharing any of the same items.
For the virtual programming in the afternoon, campers join a group Zoom call where they are taken through a variety of activities. This has expanded our reach since both patients and siblings can join the programming whether they are in the House or in the hospital.
Alex Collins, RMHC Toronto volunteer, leads virtual programming once a week and sees the positive impact Camp has on the children. She has a variety of entertaining and educational programming planned for the campers.
"I've learned you have to think outside the box when engaging with children online. Campers can go on an adventure and learn a lot without even leaving their room."

— Alex
"I try to incorporate unique activities each week, like taking campers on a trip around the world as they fill in their own personalized passport or leading them through building different Play-Doh structures. It's the greatest feeling when I hear the campers say they're having the best day ever."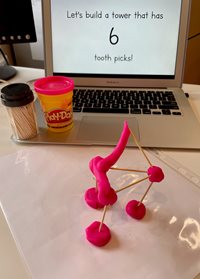 Our free, accredited camp runs at key times throughout the year. It's available to patients and siblings in the summer, March Break, December holidays, and School PD Days. RMHC Toronto Camp is one of the many ways we provide a sense of normalcy and fun for children and families during a difficult time in their lives.
Learn more about the programs and services available for families at RMHC Toronto.