Mission
Why RMHC Toronto loves McHappy Day
Join us for McHappy Day on Wednesday, September 22!
McHappy Day is our largest fundraiser in support of families at RMHC across the country, and we couldn't be more excited that it's back for another year!
Join us on Wednesday, September 22, 2021, when a portion of the proceeds from ALL menu items sold all day long at McDonald's restaurants will help families at RMHC Toronto.
In 2019 McDonald's Canada, together with its franchisees, restaurant teams and generous guests, raised more than $6.6 million on McHappy Day alone. It wasn't possible to host McHappy Day in 2020 due to the pandemic, but this year McDonald's Canada is ready to bring the event back safely. In 2021, we hope to beat that record and make this the most successful McHappy Day ever by donating proceeds from all menu items for the first time in history!
Some members of the RMHC Toronto community share why McHappy Day is so important to them, and why you should join the excitement and visit your local McDonald's restaurant on September 22: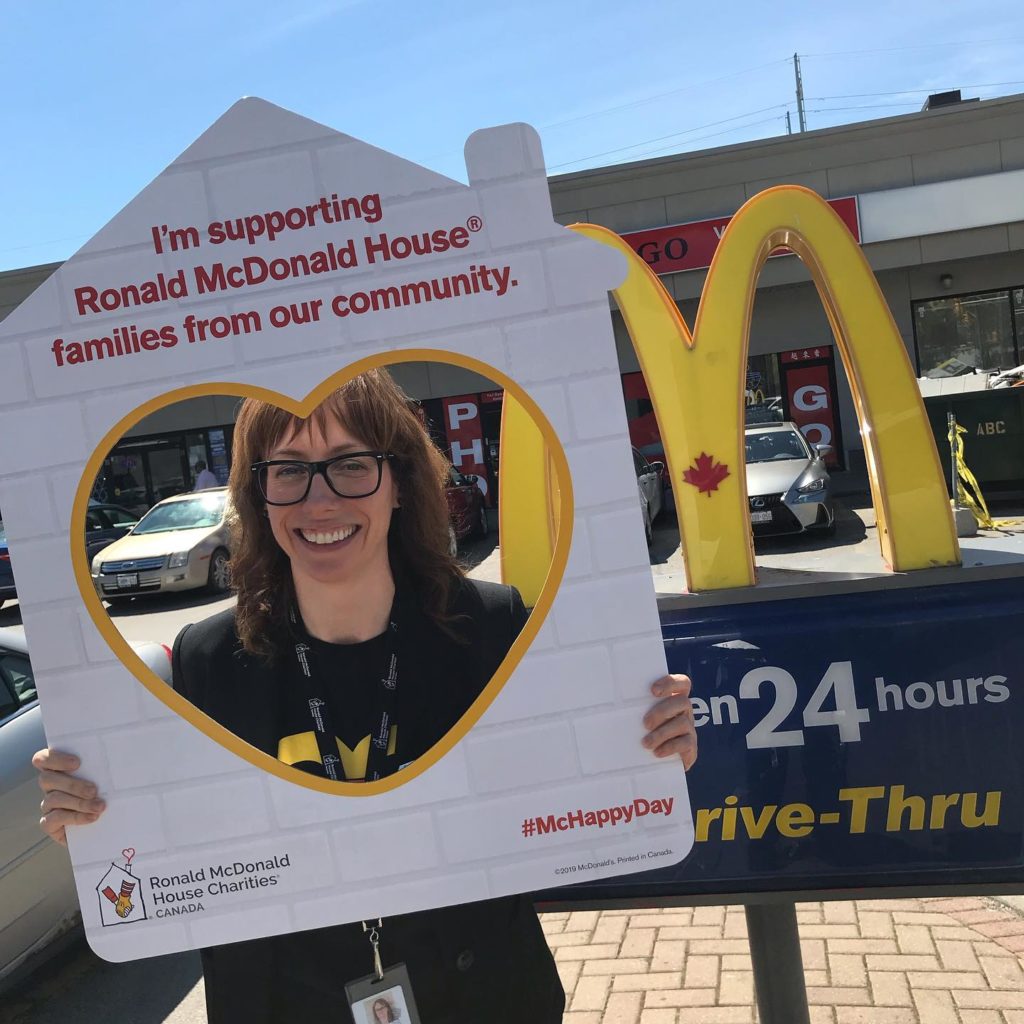 "I love McHappy Day because it is a chance to celebrate the incredible support from McDonald's Owner/Operators, staff, and crew to families with a seriously ill child through the work they do every day. Many restaurants go all out with decorations and entertainment, making it a fun community day. And I love having the excuse to eat delicious McDonald's food for a good cause."
– Jessica Rode, Senior Development Officer at RMHC Toronto.
"Volunteering at McHappy Day in 2019 was such an honour and brought smiles to so many faces! I loved being able to help individuals understand RMHC's mission and why supporting families who are utilizing the Ronald McDonald Houses and Family Rooms across Canada is so important."
– Alexandra Collins, volunteer at RMHC Toronto.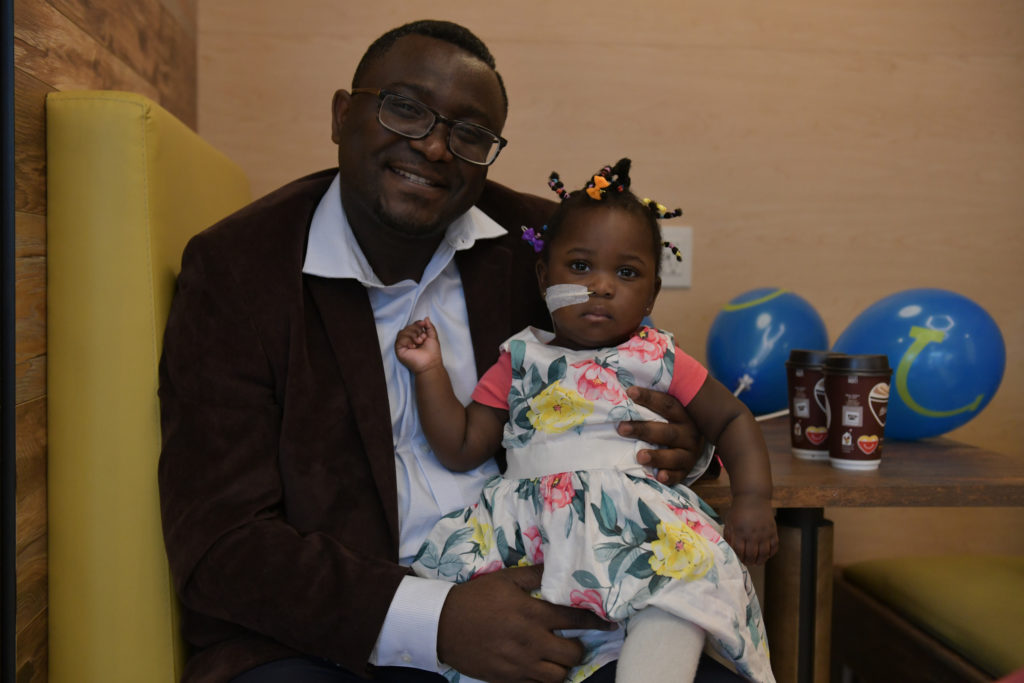 "My family and I had the good fortune of staying at RMHC Toronto while my daughter, Sa-Nkoni was at the hospital. It was a moment of deep gratitude for us when we participated in McHappy Day in 2019. Attending McHappy Day was a great moment for my family to show our gratitude for this work which supports many families with seriously ill children, so they feel supported and protected. My family and I still have moments where we think about RMHC Toronto and how they gave us the privilege of accompanying them on such a memorable day."
– Boris Njeukam, father who stayed at RMHC Toronto.
"McHappy Day is a celebration of all the hard work that McDonald's puts into making my second home, RMHC Toronto, truly feel like a home. As Dorothy says, 'there's no place like home', and to me that is RMHC Toronto."
– Emma Collins, cancer survivor who stayed at RMHC Toronto.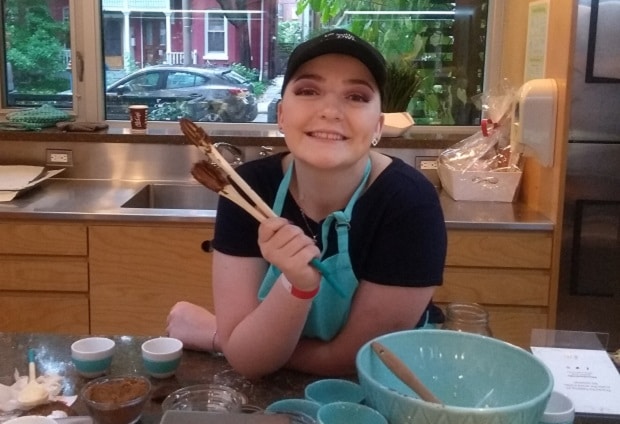 From now until McHappy Day, purchase a McHappy Day heart at McDonald's restaurants for a $2 donation and receive a special message from an RMHC family or one of our celebrity ambassadors. You can also add a pair of exclusive Peace Collective McHappy Day socks to your extra value meal order with a $5 donation to show your support.
Help keep families together by celebrating McHappy Day with us and our Founding and Forever Partner, McDonald's, on Wednesday, September 22, 2021.
The McDonald's restaurants in the following regions will be supporting RMHC Toronto:
ACTON
AGINCOURT
AJAX
ALLISTON
ANGUS
AURORA
BANCROFT
BARRIE
BEAVERTON
BELLEVILLE
BOLTON
BOWMANVILLE
BRACEBRIDGE
BRADFORD
BRAMPTON
BRIGHTON
CALEDON
CHELMSFORD
CLARKSON
COBOURG
COLLINGWOOD
CONCORD
DOWNSVIEW
DRYDEN
EAST GWILLIMBURRY
ELLIOT LAKE
ELMVALE
ESPANOLA
ETOBICOKE
FORT FRANCES
GANANOQUE
GEORGETOWN
GRAVENHURST
HANMER
HEARST
HUNTSVILLE
KAPUSKASING
KENORA
KESWICK
KINGSTON
KIRKLAND LAKE
LAKEFIELD
LINDSAY
MALTON
MAPLE
MARKHAM
MIDLAND
MISSISSAUGA
NEW LISKEARD
NEWCASTLE
NEWMARKET
NORTH BAY
NORTH YORK
ORANGEVILLE
ORILLIA
OSHAWA
PARRY SOUND
PETERBOROUGH
PICKERING
PORT HOPE
PORT PERRY
REXDALE
RICHMOND HILL
SAULT STE MARIE
SCARBOROUGH
SCHOMBERG
STOUFFVILLE
STURGEON FALLS
SUDBURY
THORNHILL
THUNDER BAY
TIMMINS
TORONTO
TRENTON
UXBRIDGE
VAUGHAN
WASAGA BEACH
WHITBY
WILLOWDALE
WOODBRIDGE