At RMHC Toronto, we believe in the power of cookies to keep families together.
The story of RMHC Cookies starts in the kitchen of every Ronald McDonald House across Canada, including at Ronald McDonald House Charities (RMHC) Toronto.
Baking cookies is a simple thing, except when you are living away from home because your child is being treated at a hospital in a city far away. So, when families of sick children like the Trafford family come to RMHC Toronto after a long day at the hospital, the smell of the warm, delicious cookies baking in the oven reminds them of home.
Kris Trafford from Melancthon, Ont. is the mom of 14-month-old Brody, who receives testing and treatment at a hospital in Toronto. During Brody's treatment, Kris spends all day by Brody's crib in the hospital. At night when he has fallen asleep, Kris walks a few blocks from the hospital to RMHC Toronto where she can rest in a comfortable bed, get a good meal and be surrounded by a reassuring feeling of home.
But as tired as this mom is in the evening, the comfort she craves is in the kitchen baking cookies like she does at home.
"At home I grew up baking cookies with my mom and it's always been a great stress relief for me. The House has given me a place to relax and calm down and when I'm here I can bake cookies."
And we all know that when you bake cookies, you don't bake just one.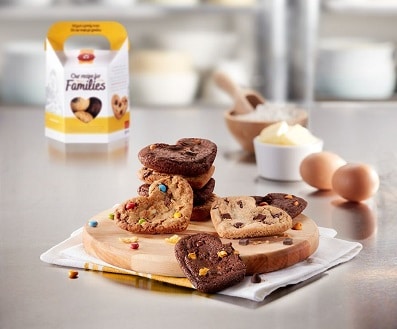 When she first started baking at RMHC Toronto, she would leave a few dozen cookies out for other families to eat or take to the hospital the next day but in no time at all Kris found that groups of people would come to the kitchen to hang out together, drink coffee or milk and eat cookies. Eventually her cookies became so popular it became a program at the House called "Kris' Kookies".
"It was just what I needed," she says and adds that "I think a lot of us sometimes just want to hide in our room but if there's a cookie smell downstairs you get drawn out of your room and you can let go of that stress for a bit because we're all stressed here. We're all tired. So if you can just have that moment, have some sugar, smile… It just makes life a little bit more bearable."
While she has many people have thanked her for the cookie nights, it has been healing for her soul whenever Brody's ongoing treatment brings the family back to the House.
"It made me happy to see so many people excited over cookies and company. I love that I have met everyone from every culture and every different background and we can talk and share our stories because it's a sense of community that no one else quite understands. We're all here for each other."
"Baking cookies at Ronald McDonald House gives me purpose beyond being mom of a sick child," Kris says. "It is cookie therapy."
With the launch of RMHC Cookies, heart-shaped cookies in three delicious flavours, McDonald's and their guests are supporting the families of RMHC by celebrating the tradition of baking cookies at Ronald McDonald Houses.