Story
Wig or no wig, I can be myself
An 18-year-old cancer survivor shares what RMHC Toronto means to her.
Hi everyone. My name is Emma Collins and I live in Muskoka, Ont. But that's not the only place I call "home." My second home is right here in Toronto at Ronald McDonald House. At both homes, I have a family who supports, loves and provides comfort in trying times, and I am so incredibly thankful for that.
I was first diagnosed with leukemia in May 2015 when I was just 14 years old. I was immediately rushed to the hospital and was admitted for three months. This was hard on me, but also hard on my family members as they needed a place to live in Toronto while I was at the hospital receiving chemo after chemo.
We got a room at Ronald McDonald House and it really helped as it was so convenient. It was no more than a five-minute walk to and from the hospital, so I knew my parents were always close when they were catching up on sleep or getting a meal at the House.
Once I was discharged, I was then able to join the rest of my family at Ronald McDonald House. It was nice to be so close to the hospital as I still had countless appointments and checkups. Throughout my time in the House, I had many friends visit me, which really lifted my spirits.
In May 2018 – my Grade 12 year – I was told I had relapsed and would need a bone marrow transplant from my brother. I knew then that I would be spending A LOT of time at the House.
But if I had to be anywhere else than home in Muskoka, I wanted to be at Ronald McDonald House.
I was able to have sleepovers with my friends as I would normally do, and I met so many kind people at the House, both staff and other families. Everyone is so kind because they are all there for the same reason.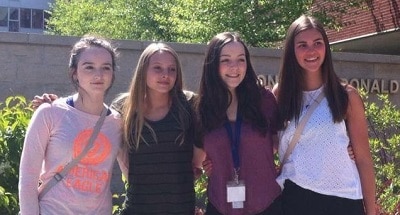 One thing I really love about the House is that there is no judgment. That tends to happen a lot when you're a teenage girl and bald. Many people stare when they see something different, such as a bald girl wearing a mask, but at Ronald McDonald House, no one cares and no one judges me because everyone has a little something going on in their lives, and that's okay. Everyone understands because we're all just trying to get through it.
I'm so incredibly thankful for everything the House has done and let's me do. George Cohon's (Founder of McDonald's Canada & McDonald's Russia/Founder of RMHC Canada) dogs come visit the House, which I absolutely LOVE because I'm a big dog lover. It makes my day to see Simmie and Annie, the two retrievers, who are literally the sweetest pups in the world.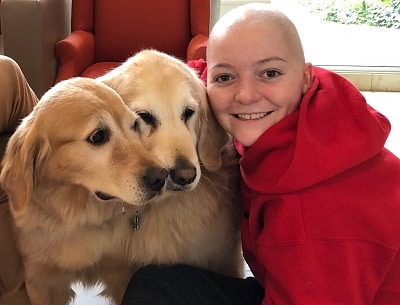 Other things I was able to do was have my friends come over, even if it was a group of seven of them at once, or have a sleepover with my best friend, Emma. Being able to have that time to share with each other and reconnect meant so much to me, and all of them loved the House too as it has everything you could possibly need and more! I was also able to have my brother come and visit me many times and we could just hangout like we would any other day. That would make my day about 1,000 times better!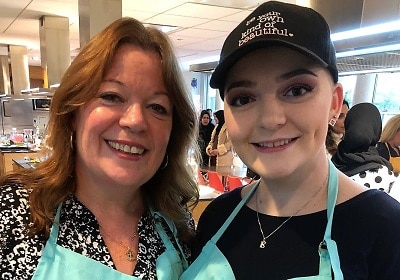 Ronald McDonald House provided my family and I with a sense of normalcy which is all I could've really asked for during such a complicated time in my life. I really couldn't be more thankful. It really is a great place and I can still feel comfortable if I'm not feeling or looking my best.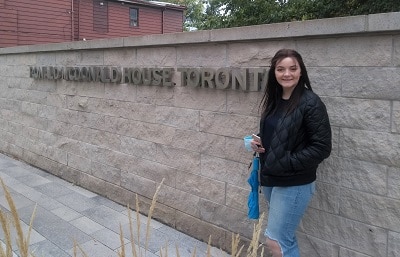 Wig or no wig, I can be myself and be comfortable in my home away from home. Thank you.