Story
A life-changing volunteer experience
Cristin, a volunteer for our Child Life program, shares why volunteering at RMHC Toronto means so much to her.
Cristin Young recently celebrated her one-year anniversary as a volunteer at Ronald McDonald House Charities (RMHC) Toronto. This was an important milestone for her because RMHC Toronto came into her life at a critical time.
Cristin, 33, worked as an Early Childhood Educator in Toronto, Ont. for eight years until 2013, when she became sick with pre-leukemia blood cancer. She was consistently in and out of the hospital until doctors said she needed a bone marrow transplant in 2016.
Cristin received the life-saving transplant on January 31, 2017 and six months later, she was well enough to go home. She gives credit for her recovery to a therapist and to fun activities like bingo which she could participate in during her hospitalization.
"The transplant was a hard experience, but the programs and activities helped me beyond what I imagined," she says.
When Cristin came home, she couldn't return to her job due to her weakened immune system. So, she looked for other ways to continue working with children. This led to her role as a Child Life volunteer at RMHC Toronto, starting in August 2017.
"Volunteering at RMHC Toronto changed my life. I know what these kids are going through, so it makes my day to see how active, enthusiastic and excited they get in the Child Life Room."
The Child Life program helps children cope with the stress and uncertainty of their illnesses and their families' situation by providing therapeutic play and self-expression in a safe and welcoming environment. Child Life volunteers like Cristin offer a variety of programming like medical play and other educational games and activities.
Things came full circle in Cristin's first month of volunteering when she got to know a nine-year-old girl who had been coming to Child Life for a couple weeks in a row.
"We had a connection because she was her sister's bone marrow donor. My experience came up naturally, but we didn't need to talk about the details because we had a special shared understanding of what the experience involved."
A few weeks later, the little girl's sister sadly passed away.
"When I found out, I needed to take a minute to recover. But the experience left me feeling grateful. That's because I know that what we do to help families at RMHC Toronto, like in Child Life, can go a long way."
Since then, Cristin has had many other memorable experiences at RMHC Toronto, including hosting Coffee Talk with Kayla Slegers, our Child Life Specialist, and attending RECESS, our major fundraising event for families, in March 2018.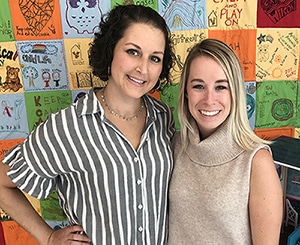 "RECESS was incredible! I helped with beach volleyball and the kids loved it. I'd go again and bring my whole family."
Looking forward, Cristin says she wants to get involved with other activities at RMHC Toronto.
"My volunteer shift makes Tuesday the best day of the week, because I know every experience I have makes an impact."
Learn more about our programs and services and how you can become a volunteer at RMHC Toronto.