For Owner/Operator Andre Hu-A-Kam, supporting RMHC Toronto is his greatest pride and legacy.
When Andre Hu-A-Kam looks back on his 30-year career at McDonald's Canada, supporting Ronald McDonald House Charities (RMHC) is one of his most memorable achievements.
As a Toronto area-franchisee, Andre has supported RMHC Toronto through a portion of his restaurant sales since purchasing his first restaurant location in 1990.
"RMHC is truly the heart of McDonald's. The culture for giving back and instilling this value to my team members is my greatest pride and legacy," says Andre.
As RMHC Toronto's Founding and Forever Partner, support from McDonald's Canada dates back to the opening of our first House in 1981. Since then, McDonald's Owner/Operators like Andre have continued to provide vital support through a portion of sales from Happy Meals and RMHC Cookies, coin box and kiosk donations, Round Up for RMHC, proceeds from McHappy Day, and more.
Over the years, Andre has provided amazing support to RMHC Toronto by leading creative fundraising initiatives, including hosting media events in his restaurants on McHappy Day. From the first day a new employee starts at one of Andre's restaurants, they learn about RMHC Toronto.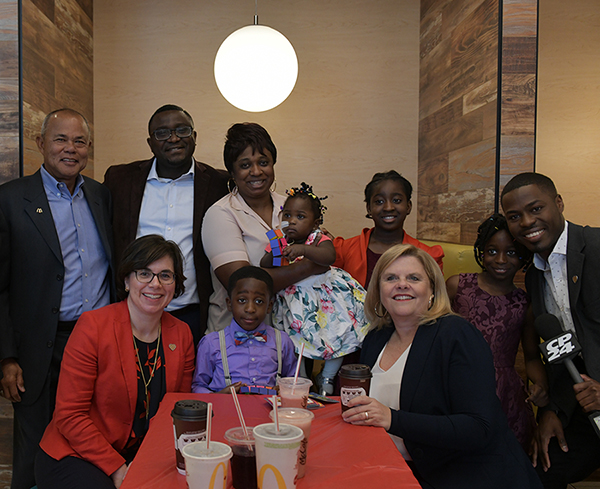 "When you visit or work at a McDonald's, you know you are part of something more and that makes you feel good about your choice. It fills me with pride to see my people believe in RMHC Toronto and what they do for families of seriously ill children."
Six years ago, Andre became even more involved with RMHC Toronto when he became a member of the Board of Directors.
"Once you visit the House and experience and feel it for yourself, you can't help but feel the need to be part of this special place," he explains. "It compelled me to become a Board Member and without a doubt, this experience over the past six years has been one of my biggest honours."
Nowadays, Andre has the pleasure of seeing his grown children doing their own fundraising for RMHC Toronto. This gesture means the world to him because he knows how meaningful that support is – not just for the families who receive it, but also for the donors.
"Once, on a flight to the Caribbean, my wife and I were sitting beside a young man and we struck up a conversation. When I told him that I was an Owner/Operator of several McDonald's Restaurants in the GTA, he immediately began to thank me for all that we do for RMHC Toronto. His four-year-old son had been diagnosed with leukemia and stayed at RMHC Toronto while receiving treatment at a nearby hospital. He was so grateful for the facilities and the ability to meet other parents who were in the same situation. Unfortunately, his son was overcome by the illness and passed away.
"As this stranger told me this incredible heartfelt story of his son and their time at RMHC Toronto, I was so grateful for playing a small role in making a difference in a family's life at RMHC Toronto."
Through his work on our Board of Directors, Andre leaves a legacy of incredible generosity and dedication to keeping families close. And as a busy Owner/Operator of 11 restaurants, Andre continues to find time to raise money for and support RMHC Toronto.
We warmly thank Andre Hu-A-Kam, and all our Owner/Operators and volunteers, for their commitment and support of our mission.
If you would like to stay in touch with RMHC Toronto, be sure to sign up to receive email updates about our House and Family Rooms.