For Board member Aric Bhargava, supporting RMHC Toronto is a family affair.
"Premature and perfect." This is how Aric Bhargava, a RMHC Toronto Board member, describes the birth of his son Ayen in 2012. For a couple that was big on planning, an earlier delivery was not part of their plan and the circumstances surrounding his birth were anything but perfect.
Two months before their due date, Aric's wife Geetika (G) didn't feel well. As a precaution, they went to the hospital. Within hours, a nurse told Aric that G's organs were failing due to some complications. Doctors said he needed to prepare for the possibility that his wife or baby might not make it.
Their baby boy was born later that day. "G wasn't conscious for the birth, which was scary. I was alone and I wasn't prepared for any of this." When their baby was born, he wasn't crying. A nurse said his vocal cords hadn't fully developed yet. "That's when I realized both mom and baby would be in the hospital for a while," says Aric. G's recovery would include eight intensive days in the hospital.
Their baby was immediately transferred to the NICU to continue growing and developing. A few days later, Aric found out about the Family Room in the NICU at Credit Valley Hospital.
"I was emotional while the volunteer showed me the amenities. It dawned on me that this service was available due to the generosity and kindness of others. Which also meant that there were others going through the same experience. It was a lot to take in."

— Aric
For just over two months, the Family Room at Credit Valley Hospital became an important space for Aric and his family.
"I could get a drink, a meal, or a quiet moment to process my emotions. The sleeping area was also helpful, because we could rest and not feel guilty about being too far away from our baby."
On Thanksgiving weekend, which also happened to be Aric and G's third wedding anniversary, their son Ayen was healthy and strong enough to go home for the first time.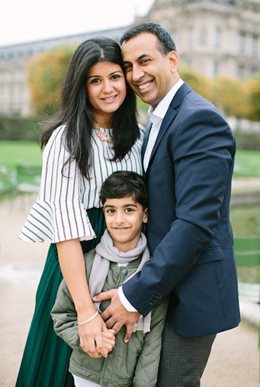 A few months later, Aric met with John Davis, who was the Chair of the Board of Directors at RMHC Toronto at the time. This meeting eventually resulted in Aric joining the Family Room Sub-Committee for several years.
"I was grateful for John's interest in my background as a compliance professional coupled with my personal experience at RMHC Toronto. It was an honour that he and the other Board members valued a diversity of perspectives all for the scope of the mission."
As a member of the Sub-Committee, Aric worked with the team to evaluate, strategize, and expand the Family Room program into other communities around the Greater Toronto Area and in Sudbury. Five additional RMHC Toronto Family Rooms have opened in the years since Aric joined the Family Room Sub-Committee.
"I've been to every Family Room opening – except for Sudbury! It's an honour to work with a tremendous team to bring more of the mission to even more families like ours."
In 2014, Aric was appointed to the RMHC Toronto Board of Directors. Aric graciously volunteers his time and gives his expertise to support the mission, guide the strategic direction, and grow revenue.
Supporting RMHC Toronto in a variety of ways has become a family affair for Aric. They have an annual tradition of coming to the House on Easter to watch the egg hunt and help prepare and serve dinner to the families – respectful of the current COVID-19 restrictions at the House.
Aric has also participated in other awareness building initiatives, including event speeches and filming a commercial at the House when Toronto Raptors player Pascal Siakam visited families with our friends at Google.
"The older Ayen gets, the more he understands how important the House and Family Rooms are. He always asks about ways to help the families at RMHC Toronto, which gives me so much pride. I appreciate everything RMHC Toronto has done for my family and as a volunteer I'm humbled that we can do the same for families with seriously ill children in their time of need."
We are so appreciative for Aric, G, and Ayen's support and commitment to RMHC Toronto and for all that they do.
Thank you, Aric, and to our other incredible Board members, for graciously giving your time and energy for families at RMHC Toronto.
For more information on the Family Rooms, please visit our Family Rooms page. If you want to learn more about our talented Board and Committee members, please visit our website.