Candice reflects on 18 years of supporting families at RMHC Toronto.
When Candice Gurwitz started volunteering at RMHC Toronto in 2001, she had a feeling she was where she was meant to be. Looking back, she can't believe how true her instincts were as a young woman just starting her career.
Candice studied Early Childhood Education at Ryerson University and discovered RMHC Toronto during her third-year student placement in the bone marrow transplant ward at SickKids. She met a family who was staying at the House, which she heard about through her part-time job at McDonald's.
"I loved my job at McDonald's and had participated in McHappy Day, but I didn't know much about the House. I connected with the House manager at the time and ended up being their first student placement in my fourth year," says Candice.
The House staff loved the work Candice was doing to organize play programs for children, so she was asked to continue the programming as a volunteer. She was eventually hired part-time as a play program coordinator working 20 hours a week.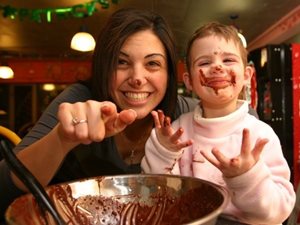 Candice says she's made many special memories throughout the years, but some of her fondest moments were at the House on Gerrard Street.
"My office was across the hall from the elevator, so a young girl named Alexie always waved bye to me before she got on. It was a small house, so I could hear her happily yelling "bye" as she got to her room two floors above me and I'd yell "bye" back. It became our ritual. Ever since Alexie passed away, I think about her when an elevator door closes. Those small moments I have with families mean a lot to me."
One of the things Candice is most proud of in her career is her work to transition from the House on Gerrard Street to the current location on McCaul Street. At the time, she was the Assistant House Manager.
"I joined focus groups with families and was on the design committee to ensure the House design met the needs of families. Seeing our dream of supporting more families become a reality was incredible. It was heartwarming knowing we involved families in the process, so the House was everything they wanted it to be."
In September 2010, Candice went on maternity leave for her first child and returned to RMHC Toronto as the Manager of Family Services two months before the House on McCaul Street opened in 2011.
Becoming a mother deepened her appreciation and commitment to the mission.
"When I was 27 weeks pregnant, I was registering a new family and the mom asked me my due date. I told her it was September 30 and she said that was her due date too, but she didn't know if her premature baby was going to survive. That really hit me. From then on, I really understood how deep the bond is between parents and their child and what they are going through while they stay with us."
Today, Candice is the Director of Family Services and Programs. She supports the Family Services, Programs, and Family Room staff. She also manages relationships with hospital partners, external stakeholders, and is the co-chair of the Mission Committee (a sub-committee of the Board of Directors) to ensure RMHC Toronto has the best practices and key performance indicators in place.
As Candice thinks about where her work at RMHC Toronto will go from here, she's still aiming to support even more families.
"When I started at the House on Gerrard Street, we supported around 200 families a year. Last year, we supported 5,350 families at our House and Family Rooms. Our future excites me because I know there is still a need and we can do more."
"I've always been proud to work for RMHC Toronto. It's so incredible to be a part of an organization supporting families when they need it the most. No matter what my role has been in the past 18 years, when people say they don't know how I do it, I tell them I don't know how I can't."