Story
Comfort and support
Yuniarti shares how RMHC Toronto is giving her family comfort and support during their second stay at our House.
It's hard for me to put into words how important you are to my family. You've helped me and my 13-year-old daughter, Sophia, in ways you can't even imagine.
In 2017, we came to Toronto from Timmins, Ont. for Sophia to go through chemotherapy for Burkitt's Leukemia. We stayed at RMHC Toronto for a few months until she was healthy enough to go home.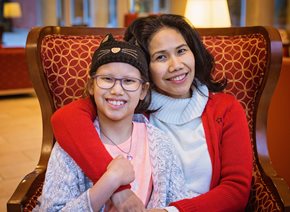 Unbelievably, Sophia's cancer came back in October 2020. But on top of that, I was also diagnosed with cancer and needed treatment at a hospital in Toronto, too.
This news was devastating. While supporting my child who was once again going through cancer treatment, I would now have to receive cancer treatment myself at the same time.
I was so relieved to find out that RMHC Toronto is still open for families during the COVID-19 crisis. I certainly never thought we would need to stay at the House again, but it was comforting to return to a familiar place during a scary time.
So much has changed since we stayed here two years ago. Everyone wears a mask and practices social distancing. But some things remain the same, such as the thoughtfulness of the staff, and I feel safe here – which is important because Sophia and I are both immunocompromised.
In these times, a lot of people are focused on the current crisis. But childhood illness is not on hold during COVID-19. We live 706 km away from the treatment Sophia needs, and I don't know how we could have stayed so healthy and safe anywhere other than RMHC Toronto.
Your support demonstrates your compassion for families like mine. Your commitment to keeping families together is the reason I'm asking for your help.
By completing our survey, you will help RMHC Toronto improve how they communicate with you, and find other like-minded friends.
The feedback and insight you provide today will help RMHC Toronto build a stronger community of supporters – a community of people, like you, who are committed to being there for families with a sick child in hospital.
And by renewing your support, you also provide comfort for a family like mine. Every $183 provides one night of comfort, but please give what you can. Every little bit helps
.
Because of you, I'm able to stay by Sophia's side, no matter how long her treatment takes. With five months and counting at the House, I'm so grateful that I have an affordable home just minutes away from the hospital.
So please complete your survey, and give the Gift of Nights to RMHC Toronto.
Your contributions are so important to families like mine, who are going through the unthinkable.
Thank you for your care and compassion for families with a seriously ill child.
With my deepest gratitude,
Yuniarti