Story
Practicums, placements and internships
More than 10 students are hired every year to support our work
Anyone who visits RMHC Toronto knows how vital volunteers are to our organization. Less known is the significant role students play in our day-to-day operations.
Every year, 10 students from programs as diverse as nutrition studies, early childhood education and Bachelor of Education and Master of Social Work programs come to the House to complete their internships, practicums and placements. Their employment with us can last anywhere from a few weeks to eight months.
"Hiring students means we have additional human resources to support our families," says Janice Carter, Director of Human Resources. "We're also pleased we can give them important on-the-job experience to help them build their careers. Our field needs excellent employees and we want to contribute to that."
Whether they are completing teaching placements in the RMHC Toronto School, supporting our food programs by developing new Home for Dinner menus or helping kids learn and have fun in our activity programs, we work hard to ensure the students have an enriching experience.
Nathaly Hotte recently completed an eight-month practicum on our Family Services team as part of her Social Service Worker program at Sheridan College. A key part of her role was welcoming new families and helping them get settled into the House.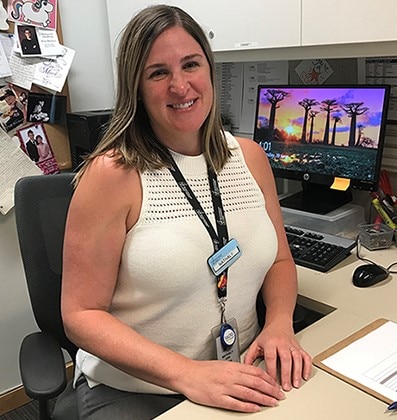 "From the beginning," she says, "I felt it was a warm, genuine environment. Everyone had a moment to give while I was learning. I got a lot of exposure to the unique challenges facing families with seriously ill children. It's over and above what I could get in a classroom setting."
Dianne Brown, Family Services Manager, says hiring students raises our profile among our educational and community partners.
"Program leaders at colleges and universities learn more about the work we do, and when students have a great experience here, they spread the word."
The selection process for students is as rigorous as it is for employees, however, says Dianne.
"We need to make sure we are always supporting families as best as possible, so it's important we hire students with the right skills, interests and characteristics to make an impact."