​Delano and Renee knew welcoming their son into the world would be extra emotional.
​Delano and Renee's newborn son is their rainbow baby – a term commonly used by parents to share they previously lost a baby during or shortly after birth.
The couple found out they were pregnant with their son a few months after they lost their baby girl. But there were still some more challenging days ahead. On September 21, 2020, Renee gave birth to Delanzo-Jaheim at only 29 weeks into her pregnancy.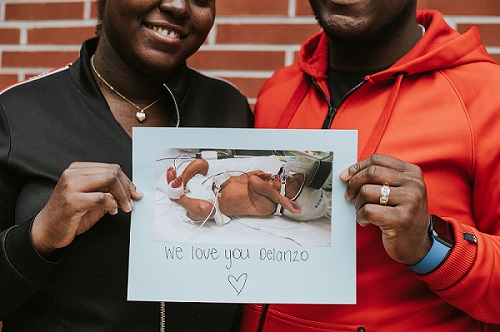 "Our little bundle of joy came into the world squealing, which was music to my ears," says Delano. "I was thankful but scared because he was immediately rushed away, and I didn't know where to go. It was frightening to be at the hospital during the COVID-19 crisis and far away from home."
Your support gave Delano and Renee a place to call home at RMHC Toronto. Their room was a safe place only a few minutes away from the NICU, so they could care for their newborn rather than commuting from their home in Bowmanville, Ont.
Delano and Renee find strength and stay positive by singing together.
"We sang to him before he was born, and now we sing to him everyday. Nurses tell us Delanzo-Jaheim will be lying still, but when we enter the NICU he starts wiggling to show us he's happy we're there. He relaxes at the sound of our voices and puts his hand to his ear as if he's a little DJ. We know this is helping his progression," says Renee.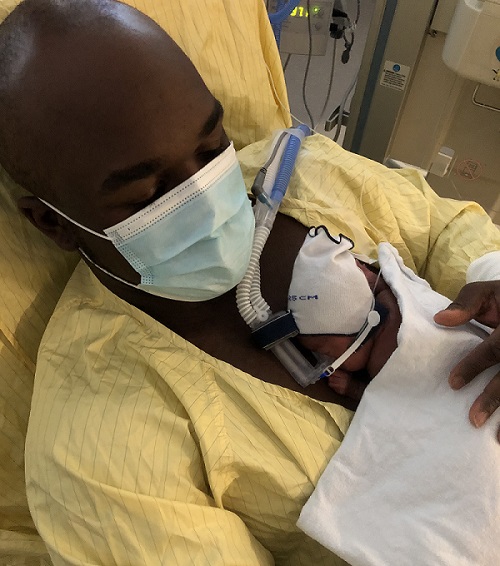 Being able to stay by Delanzo-Jaheim's side has allowed them to experience some special moments as a family.
"We have an ultrasound picture of our baby girl giving a thumbs up, and Delanzo-Jaheim will move his hand in a way where it looks like he's doing a thumbs up. This gesture shows us our children have a bond and our baby girl is looking over us," says Delano.
Because of you, RMHC Toronto provided Delano and Renee a supportive place to improve their well-being during a stressful and unpredictable time.
"Renee and I went to therapy after we lost our daughter, so it was important that we continued to focus on our mental health. The House kept us together so we could talk, go on walks, and cook together."

— Delano
"Cooking is therapeutic for me, so the fact that I could make a comforting meal after a long day at the hospital was a blessing," says Renee.
As Delanzo continues to grow healthy and strong, RMHC Toronto will always play a special role in the start of his life.
"Walking into a safe space with kind people greeting me with a smile made a positive impact. I feel at home here. I look forward to sharing this place with our son and explaining how the power of giving at RMHC Toronto kept us together as a family," says Delano.
"Our love goes out to the staff and donors who made it possible for us to get through this."