Story
The gift of being together
Kelly, a mother currently staying at RMHC Toronto, shares why all she needs this holiday is for her family to be together.
My family has faced more challenges this year than we could have ever imagined.
In the midst of a global pandemic, we travelled 3,088 kms from our home in St. John's, NL, to Toronto, Ont. to save our son's life.
We found out our son, Thomas, had a complex congenital heart disease while I was still pregnant with him. We came to Toronto in April for his birth, already knowing he would require multiple surgeries that could only be done here. At only four days old, Thomas had his first open-heart surgery. But that was only the beginning of his treatment.
During this time, my husband and I were managing significant financial stress on top of our worries about Thomas. We had to purchase plane tickets and pay thousands of dollars to rent a condo by the hospital, all while managing our mortgage payments and other expenses back home.
I can honestly say that without RMHC Toronto, my family would have lost everything.
Once we got a room at the House, it was an immediate financial relief. But I quickly realized the House is so much more than just a place to stay. It is a place where I feel safe and secure – a big deal for me since I was coming to a big city from my small hometown. It's a warm and comfortable space where we can escape the stress of the hospital and focus on being a family.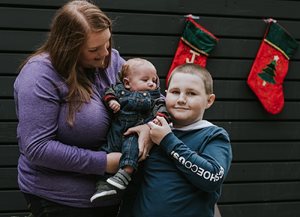 It costs RMHC Toronto $183 to support a family like mine. When you give the Gift of Nights, you keep families like mine together and close to their critically ill child in hospital.
With five months at the House and counting as we wait for the next open-heart surgery, we are preparing to spend the holidays at RMHC Toronto. My 10-year-old son, Brayson, was worried that Santa would not be able to find us. As a parent, I was worried that I wouldn't be able to give my children a happy holiday.
The staff at RMHC Toronto are so friendly and they reassured Brayson that Santa never forgets to stop at the House. It will be tough to be away from home, but I'm so grateful we have a safe place to enjoy our favourite traditions, like taking pictures in festive pajamas.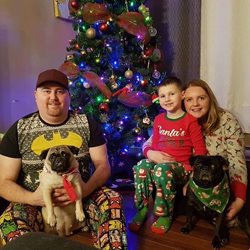 This year has showed me that it doesn't matter what presents we give or what festive activities we do – as long as we are together and close to the medical care that Thomas needs.
That's why your donation to RMHC Toronto is so crucial. Please give the Gift of Nights to keep families like mine together this holiday season.
Being at RMHC Toronto has been especially valuable for Brayson. He worries a lot about his baby brother and it's obviously scary to hear about his heart disease. RMHC Toronto has supports that benefit him as well, such as RMHC Toronto School, which has given him something positive to focus on.
When you make a donation to RMHC Toronto, you are making an investment in a service you or someone you know might need. I never thought I'd have a seriously ill child, but now I don't know what I would have done without the House.
If you are looking for a meaningful way to make a difference this holiday season, please give the Gift of Nights.
I'm so grateful for the generosity and support of kind-hearted donors like you. You have changed the course of our lives. Without your support, I can't imagine the additional emotional and financial struggles we would have gone through.
Thank you for keeping my family together this holiday season.
— Kelly