Story
Staying close to Adam
For this Orangeville family, RMHC Toronto truly became a place to call home.
For Kayla and Matthew from Orangeville, Ont., waiting for their first child to be born was a time of anxiety instead of joyful anticipation.
"The last trimester wasn't what it was supposed to be," says dad Matthew. "There was so much fear, so much crying."
That's because they knew their son Adam would need surgery after he was born, but they had no idea when it would occur. It also meant staying at SickKids indefinitely until their son was a candidate for the surgery he required.
"The fear and anxiety," says Matthew, "you can't even describe it."
When Adam was born, his esophagus was not connected to his stomach. There was a gap that could be corrected by surgery, but first the family would have to wait to find out just how much his esophagus could grow on its own.
During the stressful days while Adam was in the NICU, Kayla and Matthew discovered Ronald McDonald House Charities (RMHC) Toronto. They checked in to a room at the House, just minutes from the hospital.
But while they waited for Adam's surgery, the family ended up being away from home for nearly eight months. Adam's esophagus was measured for growth every six weeks, and as it kept growing, doctors continued to postpone surgery to give him the best possible outcome.
"You're so happy every time there is growth because it means surgery may have a greater chance for success, but at the same time it's so difficult to hear that you can't go home for another six weeks."
"When you become a parent, you stop living for yourself," says Kayla. "You will do anything – ANYTHING – for your child."
"But it felt like there was never an end date," adds Matthew, "It was always another six weeks, another six weeks."
Kayla and Matthew did not want to leave Adam's side, so they found comfort at the RMHC Toronto Family Room at SickKids, which they say became a second home.
With lounge areas, a kitchenette, sleeping pods, laundry facilities, and showers, RMHC Toronto Family Rooms provide family members with a place to rest and recharge in the hospital, just steps away from where their sick child is being treated.
"Even though the House is only six minutes away," says Kayla, "It's still six minutes away. I was determined not to be away from his side for a second."
The Family Room also gave Matthew and Kayla a space to remain connected to loved ones. When family visited, the couple found themselves offering them coffee and inviting them to sit down, as if they were in their own home. With a bittersweet laugh, they remember watching the Toronto Maple Leafs get defeated in the playoffs in the Family Room. "This place was home to us."
"But," says Kayla, "we wanted to be in our home, we wanted our baby to be home, we just wanted the life we had envisioned."
"The hospital is so hard. It's so stressful and so depressing," says Matthew. "For your own mental health, you need to take a break once in a while.
"The hardest thing, the most unnatural thing, is to leave your child's side for even a second. But you need to take a shower or step away. When you're using the Family Room you get that break while you're still right here by your child's side."
"People don't understand how much you need this. We never would've gotten through those eight months at the hospital if we didn't have a place like the Family Room to go to."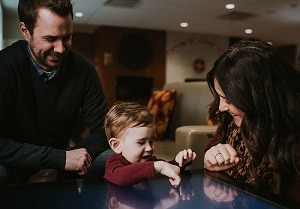 Kayla and Matthew never thought they'd be on the receiving end of charity but they became so thankful for the generosity of donors.
"When you're here you're relying on RMHC Toronto donors. You feel bad taking and taking and taking but you need it because you are literally at the lowest point of your life and have no other option."
After eight months, Adam successfully underwent surgery and is now a healthy, rambunctious two-year-old boy. With their experience behind them and a deep sense of gratitude for the support they received from RMHC Toronto, Kayla and Matthew want to give back as much as they can. Kayla is always encouraging friends and family to donate to RMHC Toronto. "I bring the RMHC cookies from McDonald's to every event I go to. People expect them now!" She runs a hobby arts and crafts business, and now donates 100% of the proceeds to RMHC Toronto.
Their gratitude comes from the heart. "I can't even imagine what this experience would have been like without RMHC Toronto. The alternative is unthinkable."