RMHC Toronto mom, Michelle, shares how your support is keeping her family together.
My children mean the world to me.
I would do anything for my two daughters and my son. We are a close-knit family who speak every day, even if we're apart. As a parent, it's been so painful to see what my children have been going through recently.
Earlier this year, my husband Jose and I realized that our son, Mikhael, was very sick. Even though we knew something was wrong, it was a shock when he was diagnosed with primary immune deficiency disease. We had to leave our home in Dieppe, New Brunswick very suddenly so that Mikhael could begin his treatment in Halifax.
I was in Halifax with Mikhael for a month while our daughters, Angelika and Kate, stayed home in Dieppe with Jose. It was so difficult for our family to be separated. Kate was especially sad because I wasn't there to give her a hug when she needed her mom to reassure her. But there was nothing I could do. I felt so helpless not being able to support my children when they needed me the most.
In April 2021, our lives were uprooted once again when Mikhael was transferred to a hospital in Toronto. It was during the worst time of our lives that my family found a wonderful place called RMHC Toronto. From the moment we walked through the doors of the House, it felt like we were home.
That's why donors like you are so important. It's only because of you that RMHC Toronto exists.
At RMHC Toronto, we have comfortable beds, homemade meals… and we have each other. Finally, the five of us can be together to support one another through Mikhael's illness.
Without the House, I'd be alone here in Toronto with Mikhael. There would be no way I could afford to fly home to visit my family. And we need each other to find strength and to smile for Mikhael while he goes through the frightening experience of being sick.
In May 2021, Mikhael had a bone marrow transplant and Jose was the donor. Being able to see them successfully go through this procedure together gave me peace of mind.
The doctors say that Mikhael's condition has improved quickly, which I'm sure can partially be credited to having his big sisters around. They love playing together – Mikhael and Kate's favourite game is hide-and-seek. The girls especially love to care for their little brother.
Please donate now to keep families like mine together when we need each other the most.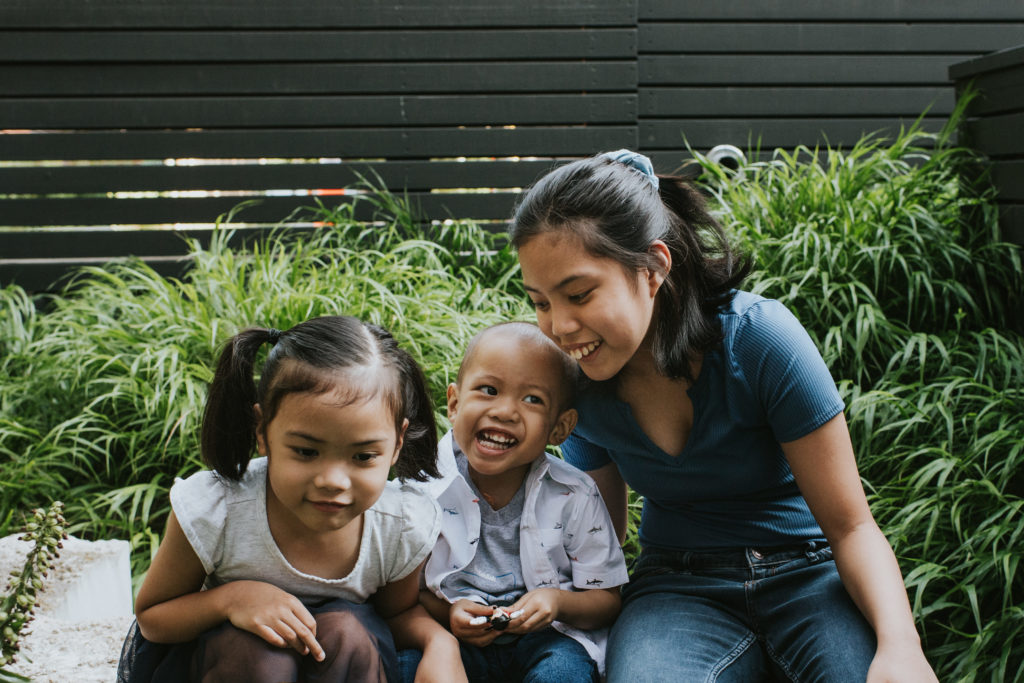 Your support makes it possible for us to stay safe and stay together as a family. Mikhael is immunocompromised, so to minimize risk we rely on the services and amenities at the House. It's a relief to see my children continuing with their education at RMHC Toronto School and having fun with other kids during the virtual programming in the evenings.
I never thought I'd have a seriously ill child, but – it happened to me. Please know that when you donate to RMHC Toronto you are truly helping families come together during a time when they could be pulled apart.
From the bottom of my heart, thank you for keeping my family together.